SARAYA's 4th and newest factory in Japan is open, increasing production in foods, cosmetics, cleaning goods, etc.
SARAYA Co., Ltd. is pleased to announce the completion of the new Kanto Factory in Kitaibaraki City, Ibaraki Prefecture, Japan on March 4th, 2020. This is SARAYA's fourth manufacturing base in Japan, following the Osaka Factory (Kashiwabara City, Osaka Prefecture), the Iga Factory (Iga City, Mie Prefecture), and the Kumano Food Factory (Kumano City, Mie Prefecture).
Background and Purpose of The New Factory
In order to contribute to "hygiene, environment and health" of the world, we have been developing our business by building a global network and providing unique products and services.
This new factory built in Kitaibaraki City, Ibaraki Prefecture is the fourth manufacturing base of SARAYA in Japan. The factory aims to strengthen supply capacity, new product development, new business creation and business continuity in response to disasters. This factory will serve to meet the increasing demands of our valued customers as we are currently facing the limit to provide detergents and foods mainly manufactured in our Osaka factory (Kashiwara, Osaka Prefecture) and pharmaceuticals and disinfectants mainly manufactured in the Iga factory (Iga, Mie Prefecture).
Features of the Kanto Factory
The new factory with a site area of about 57,000㎡, has a three-story production building, a two-story management and research building, and four attached buildings.
In the production building, the size of equipment is reduced and the streamline operations are consolidated in order to respond to the diverse production of foods, food additives, quasi-drugs, etc.
The newly established 'Food and Health Research Institute' is fully equipped with research facilities for developing new products related to food, supplements, and beverages.
In addition, we have enhanced employee welfare programs, such as a nursery, a 1km running course, and an employee cafeteria.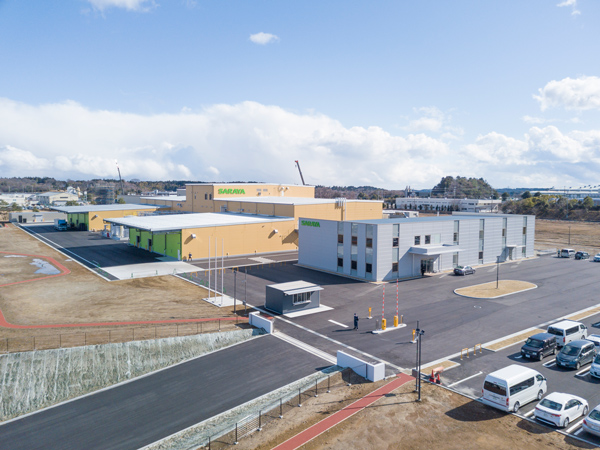 Kanto Factory Overview
Completion date: March 4, 2020, Wednesday
Site area: about 57,000㎡
Building area: about 8,800㎡
Total floor area: about 14,000㎡
Building outline: 3-story steel frame (production building), 2-story steel frame (management and research building), and 4 attached buildings
Facilities: Kanto Factory, Food and Health Research Institute
Main products: foods, food additives, cosmetics, quasi-drugs, general cleaning goods, etc.
Location: 644-55 Hitana, Nakago-cho, Kitaibaraki City, Ibaraki Prefecture (within Nakago Industrial Park)