SARAYA Co., Ltd. has been awarded the "Excellent Company Award" for Outstanding Technology and Management.
At the award ceremony held at the Keidanren Kaikan on February 3, Managing Director Saraya Itoku, on behalf of President Yusuke Saraya, was awarded a certificate of commendation by Konobu Maeda, President of the Small and Medium Enterprise Research Center.
About the Good Company Awards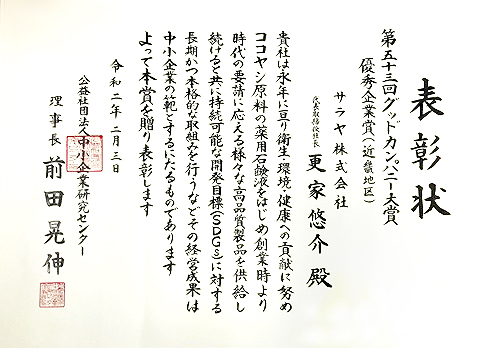 The Good Company Awards, sponsored by the Research Center for Small and Medium Enterprises, is awarded to enterprises that have achieved excellent social and economic achievements. Applicants include corporations and individuals with a capital of 300 million yen or less and a minimum of three years since their establishment, excluding public companies or subsidiaries of companies with a capital higher than the mentioned figure above. The selection process is conducted once a year under strict screenings based on recommendations from the Ministry of Economy, Trade and Industry, the Ministry of Education, the Chamber of Commerce and the Small and Medium Enterprise Investment & Consultation Company.
SARAYA was submitted by recommendation of the Kansai Bureau of Economy, Trade and Industry as well as the Japan New Business Conference. Since the first edition of the awards in 1966, who was won by Kyocera, it is said that its winners always experience significant growth after being rewarded.
Mr. Saraya's comments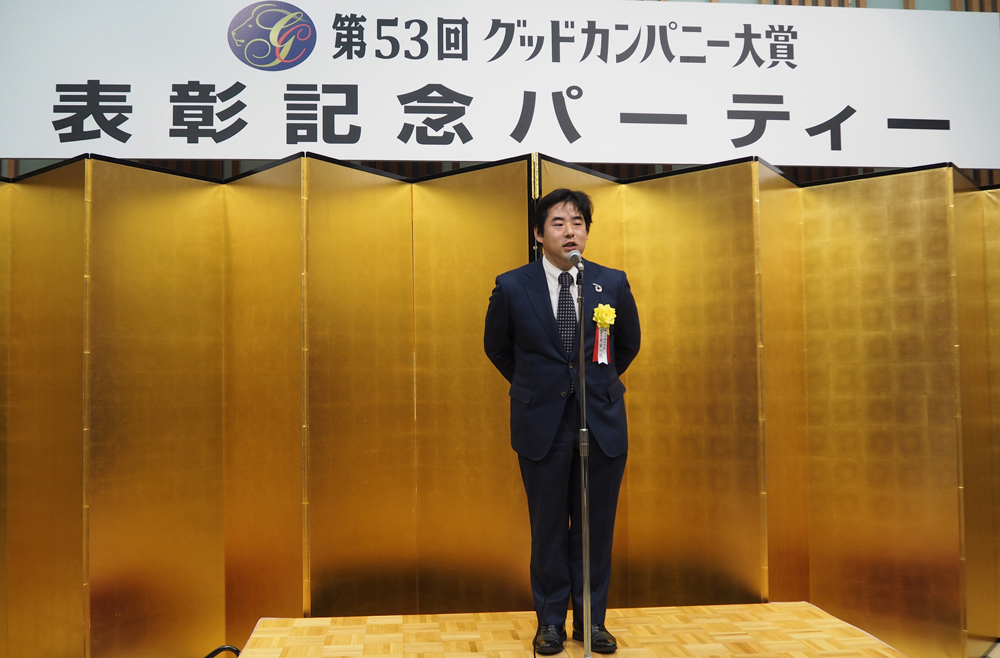 Managing Director Saraya Itoku during his speech at the commemorative party, which received compliments from the organizers.
"This award can be considered as a form of re-evaluation of SARAYA's SDG initiatives. When talking about SARAYA's approach to SDGs, one tends to focus on our involvement in handwashing and hand disinfection efforts in Uganda and conservation activities in Borneo. But our response to the novel pneumonia caused by the 2019-nCoV coronavirus is also a part of our excellent SDGs, helping to maintain the new social infrastructure of sanitation. Many, including us, may be confused by the situation around the current coronavirus, but I'm proud of how we are answering with our daily hard work, helping solve social issues, and by extension, making the world a better place."
Related links