How SARAYA it's standardizing its bottle designs to improve sustainability.
With the creation of infection control products that are safe and convenient in the medical and food hygiene fields, sustainability always acts as a third objective which SARAYA works to achieve. For that, on top of products that are easier to be recycled by our consumers, efficiency in production and transportation also needs to be in mind for a sustainable solution.
In the past, the number of 250~500ml soap bottles products at our factories was much higher than necessary, which made the cost of producing them, with its extra energy consumption, problematic. In order to reduce our energy and production costs, also reducing our footprint, we have consolidated our soap bottles into just four shapes to be shared in our products: 300ml and 500ml foam soap bottles, and 300 and 500ml liquid soap bottles.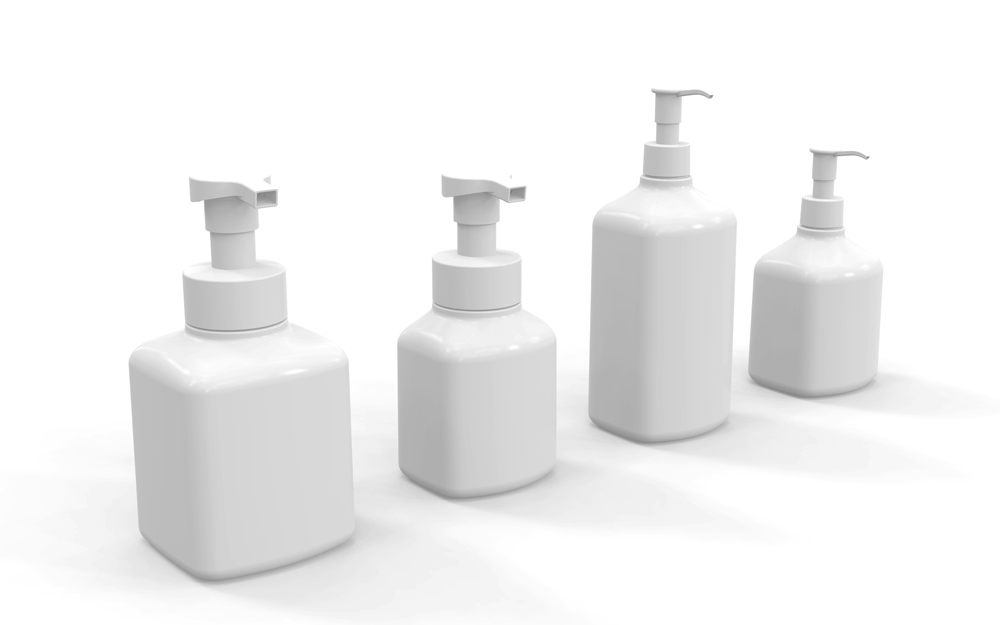 From left to right, foam 500ml, foam 300ml, liquid 500ml and liquid 300ml bottle shapes that SARAYA will use.
Advantages
With these changes, we have achieved the following points:
Reduction of costs: By consolidating an excessive number of bottle shapes into only four types we also reduced the number of molds and production lines needed, cutting extra costs in manufacturing.
Standardization of the product line: The production line requires auxiliary equipment that holds the body of the bottle, which needed to be changed depending on the bottle shape. Although with slight changes in size and measures, all 4 bottles now share the same shape from their neck to the bottom, which means that in all cases the same auxiliary equipment can be used.
A shape that prevents residual liquid: The shape of the bottle is designed so that the pump tube touches the bottom no matter which direction the pump is facing (360 degrees). All the liquid inside can now be used without any waste.
Removing waste in logistics: The larger the size of the bottle, the fewer bottles that can fit into a cardboard box, increasing transportation costs. To improve space efficiency, we adjusted the width and depth of the bottles so they can be lined up inside the shipping carton without creating any gaps. The printed surface of the bottle is also slightly slanted to prevent labels from rubbing and scratching against each other during transportation. The result is a lean container that indirectly contributes to the reduction of plastic usage.
As a result of these changes, we were able to create a bottle design with less waste of internal liquid, easier to produce and transport.
Some examples
Hand Labo Medicated Foam Hand Soap
Shabonet Quick Rinse

Content volume: 300mL

Content volume: 250mL

Content volume: 500mL
We don't even notice how many different surfaces our hands touch during the day. Even if those places may seem clean, they are still prone to bacteria and viruses. Keeping our hands clean to prevent infections has become an important part of our lives. For this reason, aiming for a simple design that many would find satisfying, everybody in the developing process worked towards the creation of a soap bottle that anybody could and would use.
We hope that this bottle successfully fits into people's daily lives, becoming a design that will be used for many years to come.