Yashinomi Premium Power has been selected for the "JIDA Design Museum Selection Vol.20".
Yashinomi Premium Power has been selected for the "JIDA Design Museum Selection Vol.20" by the Japan Industrial Designers Association, which will be held at the AXIS Gallery in Tokyo from January 17 to 22.
"Yashinomi Premium Power", based on concepts such as "gentle to the skin", "high biodegradability", and "no fragrances or colors", was designed by Mr. Chiaki Murata, a product designer active at a national and international level, with the idea of creating an "easy and clean" and "eco-friendly" product, where every pouch could be easily swapped in a hygienically, waste-less way. In addition, it has a beautiful design that would compliment any kitchen, with a transparent pouch that shows how much liquid remains.
Yashinomi Premium Power was selected as an excellent product to leave to future generations based on the following criteria:
A product that suits the plan and management of the museum
A product that exists due to the demands of current society
A first-generation product that leads the market
A product that embodies its development process
A product that proposes a lifestyle that wasn't possible before
A product that suggests a new life through the use of new technology
Simplicity that allows the product to speak on its own
Styling that proposes something new
Mr. Chiaki Murata, product designer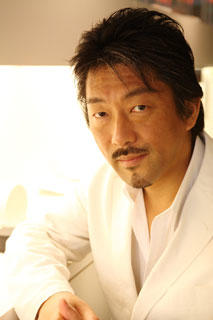 Murata was born in Sakaiminato, Tottori, 1959. and joined Sanyo Electric Co., Ltd. after graduating from the Osaka City University, Faculty of Engineering, Applied Physics Department in 1982.
Afterward, he established Hers Experimental Design Laboratory, Inc. in 1986, and was involved in a wide range of design activities, especially in the product design field.
METAPHYS, a brand-sharing consortium brand that Murata established, has won more than 50 domestic and international design awards, such as Good Design Special Award, DFA Grand Prix, Red Dot BEST OF BEST, and the German Design Award.
Visiting professor of KOBE DESIGN UNIVERSITY. Adjunct instructor of KYUSHU UNIVERSITY. Started in 2011 at the graduate school of KYOTO UNIVERSITY OF ART AND DESIGN, SDI (Social Design Institute), which aims to solve social problems through design. Published "A Textbook for social design" (JAPAN PRODUCTIVITY CENTER) and "A Textbook for social design" (CCC Media house).
What is the JIDA Design Museum Selection
The Japan Industrial Designers Association established the JIDA Design Museum as a living museum with the goal of conserving "past, present, and future - passing on to tomorrow" designs which are an important part of 20th-century culture. The JIDA Design Museum actively preserves products and related materials, which are the result of creative activities of industrial designers and engineers, for the next generations. The judges include editors-in-chief of several well-known design magazines, which conduct examinations each year, selecting outstanding domestic and international products.
Click here to see the winners at the Design Museum Selection Vol.20 (Japanese)