SARAYA opens its experimental kitchen laboratory in Osaka, equipped with the latest technology with SARAYA's Rapid Freezer and Shut-Man.
Cotof Kitchen Lab, SARAYA's brand new experimental kitchen laboratory, opened at Osaka Municipal Central Wholesale Eastern Market in August 2020, equipped with a complete range of SARAYA's Rapid Freezer and Shut-Man, our newest food freezing system, as well as many of our products to keep this lab clean and hygienic.
The aim of this kitchen is to contribute to the creation of local communities and solve the problem of food waste, shortening and improving the efficiency of cooking processes, and eliminating labor shortage, all by means of these food processing methods.
The kitchen of the future
| | |
| --- | --- |
| | |
| Outside of the Osaka Central Wholesale Eastern Market. | Entrance to the Cotof Kitchen Lab. |
Located on the Osaka Central Wholesale Eastern Market, the 9th largest food market in Japan, the Cotof Kitchen is located in a place with easy access to a wide range of fresh and seasonal food ingredients to experiment with, including fruits, vegetables, seafood, and processed foods.
When you go through its orange gate, you feel like you are entering a futuristic kitchen. Named "Cotof" as an abbreviation for "Cooking Tomorrow's Food", it is indeed a kitchen with the latest technology, where chefs experiment with various food preparation methods, searching for new and innovative ways of conserving and efficiently storing food in a hygienic way, supporting the simple, sustainable lifestyle that SARAYA always search with its innovations.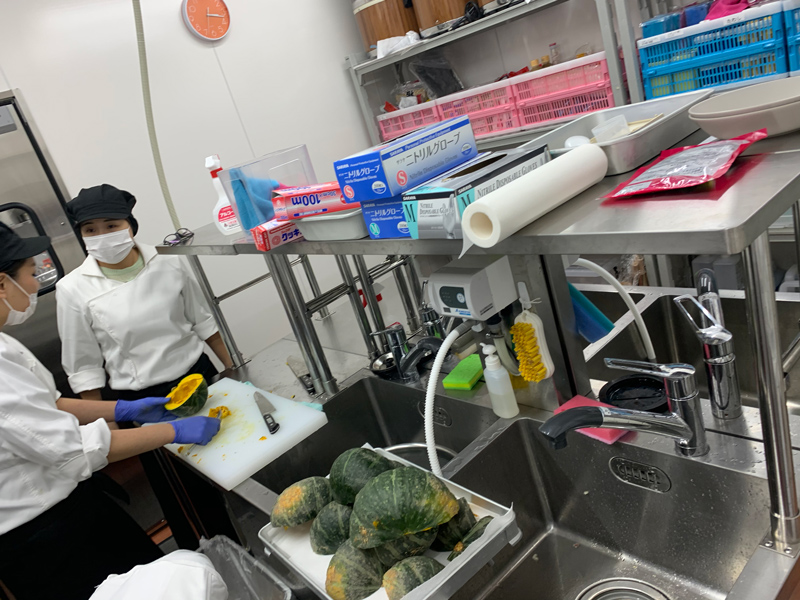 Kitchen Hygiene system, including the use of Sanistar.
While the photo above showing the food preparation area may not seem out of the ordinary to most, SARAYA, as a company that focuses on hygiene we made sure that everything, from foods to equipment, is set and prepared the right way in order to have a clean environment. Using Sanistar water, which lets you disinfect safely with slightly acidic electrolyzed water, disinfection has never been easier and safer (for both you and the environment). All tools, from hoses to machinery, are strategically placed in the kitchen to provide you the best solutions to keep any kitchen hygienic and ready to work.
Rapid Freezer and Shut-Man, the best food freezing combo
The highlight of this kitchen's equipment is the combination of Rapid Freezer and Shut-Man, SARAYA's latest food freezing system. Rapid Freezer is a machine to rapidly freeze food by dipping it in an alcohol solution chilled to -30°C /-22°F, while Shut-Man helps you to vacuum-pack foods in preparation for the use of Rapid Freezer. When you dip food in the chilled, originally developed alcohol solution of Rapid Freezer, food freezes just within a few minutes, about 20 times faster than in the normal freezer, which enables the food being frozen to pass the maximum ice crystal formation zone quickly, making any ice crystals formed within the food small without destroying cells, keeping the food fresh and tasty after it is unfrozen.
Pre-cooked food is weighed and put in a plastic bag, making time management easy for chefs when preparing food, to then be vacuumed out of any air in the plastic bag by Shut-Man, SARAYA's food vacuum packing machine. You can adjust the amount of air in the bag depending on the kind of food, with heat resistant plastic bags that maintain food quality at different temperatures. Besides the normal see-through plastic bags, SARAYA also offers blue color bags (you can see them above the Shut-Man machine in the right picture below), so that pieces of plastic are easily spotted in case anything falls in food in mass production food facilities.
| | |
| --- | --- |
| | |
| Chef preparing food to freeze in the Rapid Freezer. | A plastic bag is ready to be vacuumed in the Shut-Man machine. |
After sealing, bags with food are placed in the chilled alcohol solution of the Rapid Freezer, freezing within minutes, keeping the food's original texture and almost identical taste that in its original state. All this makes Rapid Freezer a great solution to any restaurant or food business, providing an effective way of storing food in a sustainable way, efficiently using the chefs' time, easing their workload.
| | |
| --- | --- |
| | |
| Rapid Freezer, using chilled alcohol instead of ice. | Food keeps its texture and flavor, with no ice created alterations. |
Using this freezing system, and in order to also prove the quality of our conservation methods, SARAYA has also launched Cotof Mall, our official on-line shopping site in December 2020, selling delicious food using the latest freezing technology and packaging methods, delivering "today's catch" from many regions of Japan in their original, delicious state in a hygienic and safe way, keeping health, nutrition, food loss and environmental issues always in mind.
In accordance with the SDGs principles which SARAYA pursues, we contribute to food-related businesses through the construction of food chains from manufacturing, processing, and distribution to restaurants, so that marine and agricultural resources can be tasted without waste while keeping their fresh and delicious state, for the realization of a sustainable society.
Stay tuned with their upcoming developments!

Visit the Cotof Mall (Japanese) here.
For more information on SARAYA's systems included in this article, feel free to get in touch on our contact page.