SARAYA Greentek is promoting hand hygiene through Viet Nam kindergartens and elementary schools together with AEON Viet Nam and TopValu Viet Nam.
From September 2020, SARAYA Greentek, our branch in Viet Nam, is participating in a 5-year project, Sustainable Education For the Youth (SEFY), in collaboration with AEON Viet Nam and TopValue Viet Nam to promote Sustainable Education from an early age.
In the first phase (school year 2020-2021), the selected topic is "Clean Hands - Strengthen Future", promoting hand hygiene in 100 kindergartens and elementary schools across Viet Nam.
Through this project, not only we are providing the school children with basic knowledge of hand hygiene to protect themselves from infectious diseases such as COVID-19, but also providing the schools with handwashing sinks & hand soaps so that children can practice handwashing daily.
Activities in the events range from a play about the importance of hand hygiene in children's daily life, teaching the importance of handwashing by engaging the children in questions and answers, and performing the popular "Ghen Co Vy" (English: "Jealous Coronavirus") Vietnamese song and public service announcement, that was released on YouTube at the start of this year in response to the COVID-19 pandemic in Viet Nam.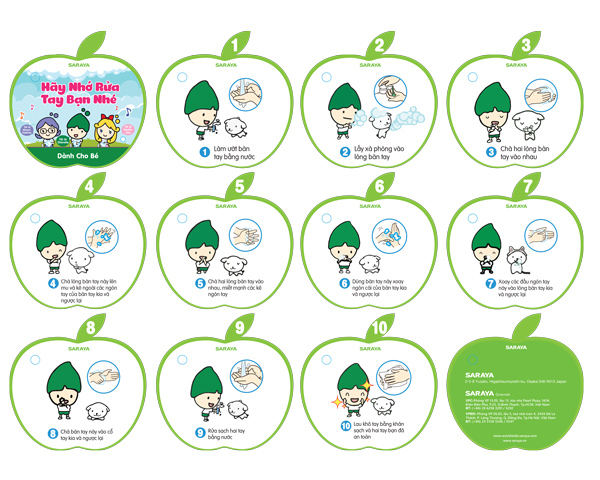 Preview of the handbook that all children received, explaining the steps of proper hand hygiene.
The first event was celebrated on the 25th of September, 2020, at the 1-6 Kindergarten in Le Chan district, Hai Phong city, where 500 children, aged from 1 to 5 years old attended. From November 2 to November 11, 2020, we engaged 9,400 children in all educational activities to promote handwashing at 19 kindergartens and elementary schools at Le Chan district, Hai Phong city. Later, from November 30 to December 28, 2020, we will continue to provide our training of handwashing and perform other educational activities to 15,000 children at 30 kindergartens and elementary schools in Tan Phu district and Binh Tan District, Ho Chi Minh City. Similar activities will be introduced to 50 more schools in Ha Noi city and Ho Chi Minh City from March to May 2021.
Through all these events, SARAYA Greentek and collaborators aim to provide the children with full handwashing facilities, such as hand washing basins and soaps, at the same time to teach the children Why, When, and How to wash their hands properly, also handing about 65,000 hand hygiene handbooks in the process to promote the children to practice hand hygiene frequently in their daily life to protect themselves from COVID-19 and other infectious diseases.