August 2022 was rich in events for our company with our president, Mr Saraya, visiting the conference dedicated to the development of Africa and the opening of a new factory in Tunisia.
TICAD stands for Tokyo International Conference on African Development and the 8th conference, which was held in Tunisia on August 27 and 28, as well as various side events. On August 19, Bill Gates, co-chair of the Bill & Melinda Gates Foundation, visited Japan and held a symposium entitled "Global Health Action Japan: Japanese Companies' Activities to Raise the Level of Global Health". At the event, SARAYA President Yusuke Saraya presented SARAYA's infection control initiatives, hand hygiene's role, and Sunanomi Lotion's development as a prevention and treatment for tungiasis. He also took part in the TICAD8 Business Forum on August 27 and 28.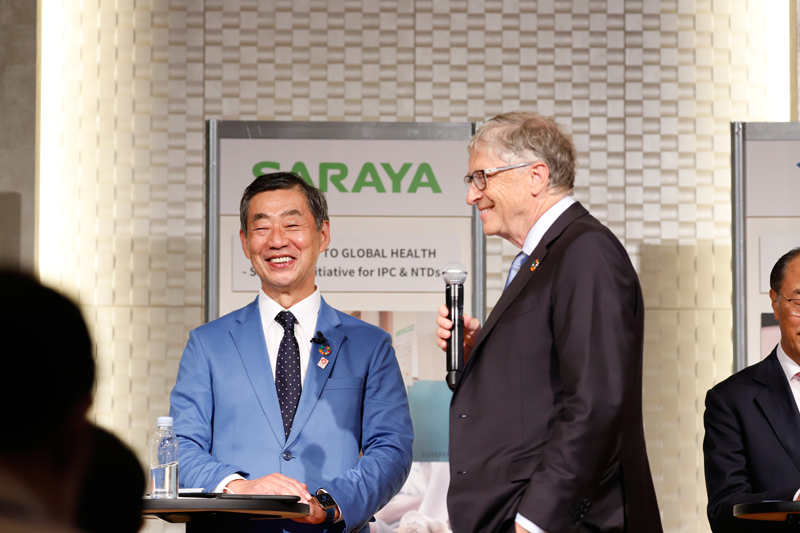 See the side event "Global Health Action Japan" here
A new factory opens in Tunisia
SARAYA established a distillation factory in 2018 and has been selling products using essential oils such as neroli and geranium. In May 2021, SARAYA established a local subsidiary, Saraya Natural Products Tunisia, in the capital city of Tunis, and last week, a new factory was opened in an industrial park in Manouba, a suburb of Tunis, scheduled to coincide with the TICAD8.
The new plant will manufacture and sell olive oil from olive varieties native to Tunisia, as well as cosmetics and alcohol hand disinfectants, with the aim of developing sustainable products while taking environmental conservation into consideration. We hope that it will bring positive influence to the country of Tunisia and its people as well!